| | |
| --- | --- |
| Pros | Cons |
| GoDaddy is cheap | GoDaddy uses a custom hosting panel |
| It integrates products very well | It limits your disk space and Database. |
| It is good for security | |
| It has little down-time and provides good support | |
| It has all the latest technical stuff | |
Introduction
GoDaddy is one of the biggest registrars of domains in the world. They are also the providers of web hosting services and there are other wide range of services as well.
SSL certification

Website security

Email marketing

E-commerce solutions

Website builder
This American company was founded in 1997 and became the largest ICANN-accredited registrar company in the world. And recently became the largest web hosting company in the world. GoDaddy is the best website for conducting domain name searches and customers can also register a domain with Godaddy and hook it with the tool.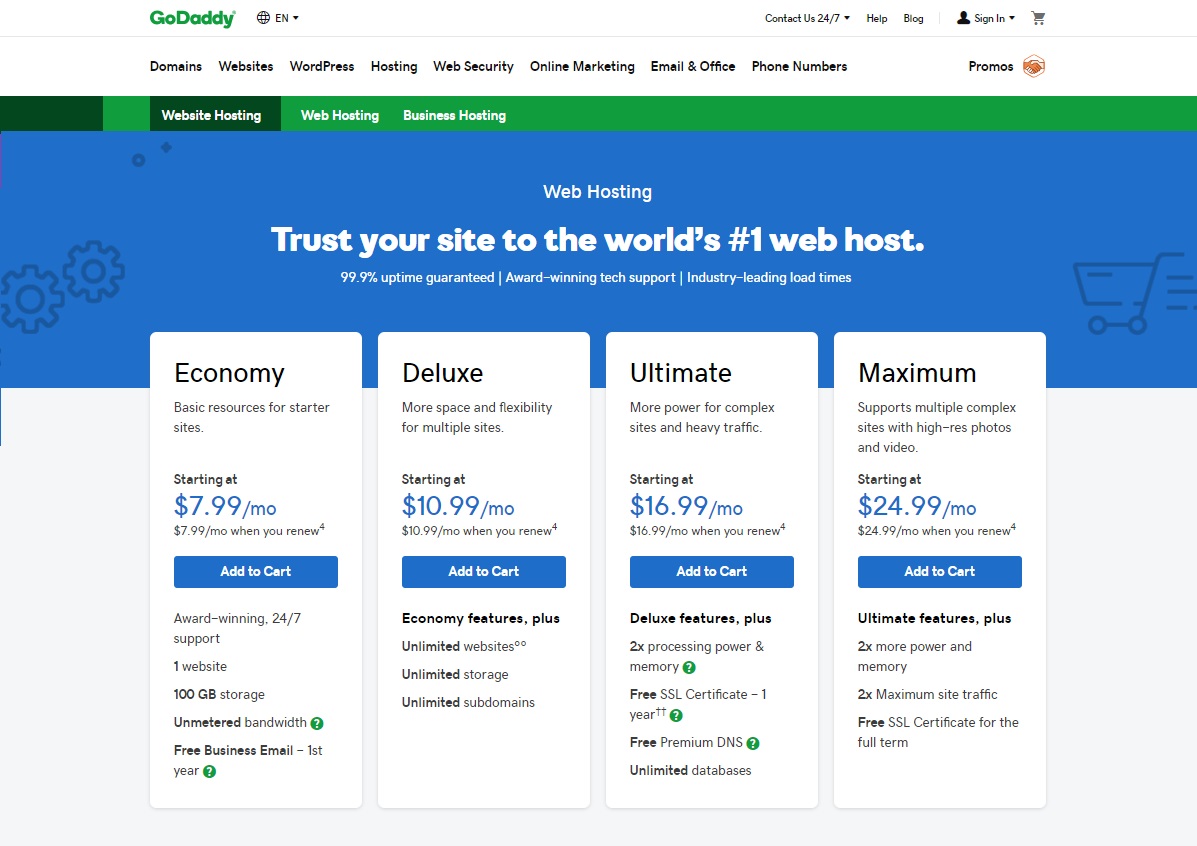 Types Of Offers
Shared Hosting
Shared hosting is impeccable for entry-level website hosting. This is where your website will be stored as many other websites on the same server. With a shared hosting plan mostly all the domains share the same server resources, such as RAM (Random Access Memory) and CPU (Central Processing Unit). However, because all resources are shared, the cost of shared hosting plans is comparably low, making them a great alternative for website owners in their early stages.
In most cases, beginners will find this as the easiest method of hosting their website; So regardless of whether you are a small business owner, community group, or stay-at-home mom wanting to blog, your site will be available on the web. Shared hosting plans often come with many useful tools like website builders, WordPress hosting, and the ability to send emails to clients.
VPS Hosting
A VPS hosting plan is the midpoint between a shared server and a dedicated server. It is ideal for website owners who need more control, but don't necessarily need a dedicated server.
VPS hosting is unique because each website is hosted within its own server space, although it still shares a physical server with other users. While VPS hosting gives website owners more customization and storage space, they still can't handle amazingly high traffic levels or spikes in usage, meaning that site performance may still be affected by other sites in the server. VPS hosting is used by the owners of the websites who want dedicated hosting and for that they don't require to have the technical knowledge.
WordPress Hosting
With this sort of increasing popularity of WordPress as a web-building platform, many web hosting servers offer what is known as "Managed WordPress Hosting". Simply what you have to do is put Managed WordPress Hosting as a service where your web hosting provider will keep your WordPress installation updated, which can help to protect the site from all kinds of security threats that would allow hackers to enter the website.
While WordPress Hosting is not as inexpensive as shared web hosting but this is a nice option for both startups and established businesses using the WordPress platform.
Email Hosting
If your business is running on email, so it's via email the communication between team members, customers, clients, and vendors happens. And to continue that, you need an email hosting that will match your domain.
The email is in between the parties, that's why we don't share your data or access your data or deliver advertisements during your online sessions. Our plans offer up to 25GB of storage space for every user, which gives you excessive space to store all the emails you like. There can't be anything worse than keep on emptying the space for new mails.
Customer Support
To contact GoDaddy customer care or customer support, there are customer care guides for help. Anybody can reach out to the award-winning Godaddy guides for help. You can also get chat help regarding any issues. To have a chat with a Godaddy guide you must have to visit Contact Us page and then you have to click on the Chat Now option. If Chat is not available on the same page where you find Chat Now option please look for the option Call Us for getting support phone numbers. For support, go to support.godaddy.com, or chat with a friendly GoDaddy Guide at (480) 505-8877.
Performance
On the GoDaddy Pro dashboard of yours, you can check if your website is doing well and get recommendations and guidance to help speed up the website.
Log in to GoDaddy Pro account of yours.

Click Sites in the left sidebar.

Hover over the website and then please click on the Open website dashboard option.

Click Performance after that click on the option named Activate Performance Check.

Click Activate in Free Performance Check section.

Select the location of the server that is going to check the performance right next to the Run performance check

Click Run performance check.
Is GoDaddy right for you?
GoDaddy is empowering entrepreneurs to change the world. To make your idea come true. To grow entrepreneurs online. They help entrepreneurs do what they have been dreaming about and make the world they want. GoDaddy is inspired to provide entrepreneurs with the perfect help and tools for their journey. The leadership team is humbly and passionately dedicated to unlocking the collective power of everyday entrepreneurs. The GoDaddy Guides are those whose humanity shines 24 hours a day, 7 days a week, whether they are helping you take the first step or the next. From instructional videos to expertly written blog posts, they have tons of inspiration and solid advice waiting for you.